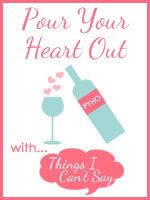 I am linking up, once again, with Shell at Things I Can't Say for her weekly feeling-fest.  If you're interested, head over to her blog and check out the other bloggers that have something heart-felt to say.
When Wilzie and I started dating, he was in the market for a dog, but he worked long hours and all kinds of weird shifts so he felt bad about bringing a puppy into that situation.
So he got a rabbit instead.
His name was George ("I'm going to love him and squeeze and call him George"), and I hated that fucking rabbit.  We litter-trained him , but he preferred to use the carpet as his personal toilet.  He even developed such an attitude that he would flip his litter box over and poop on top of it!  That little asshole was farm-bound after a month.
At which point we upgraded to our cat, Maverick.  Maverick is my schmoopy-poo, who loves to cuddle with him Mama, as we gaze lovingly into each other's eyes.
a face only a Mother could love
But Maverick wasn't enough for Wilzie…he needed a dog.  So we started our search for a puppy (after we got Maverick, I couldn't bear to leave him, so I just moved in).  We spent a long time looking for just the right one.  Wilzie tortured himself by going to the SPCA every day, but we just couldn't find the right puppy for us.
We had just made the decision to get an older dog – since our luck with finding a puppy hadn't yet awarded us with a furry friend – and on our very next trip to the SPCA (to look for an older dog), we fell in love with a little German Shepherd/Collie cross puppy (funny how things work out).  She was just standing there, so calm among the chaos of barking/yelping/jumping dogs, looking at us inquisitively through the chain-link fence, her front paw firmly planted in her water dish.
This was our Maya Pup-aya.  She was perfect.
Except, we found out, not quite so perfect.  Maya had lice.
No big, a few baths with special shampoo and she was fine.  Perfect, in fact.
And then at 9 months old, she started to cry a lot; whining and whimpering almost constantly.  We noticed that she was moving slowly and gingerly, even more so after a walk.  We took her to the vet; something was wrong with our baby.  We were told that she had hip dysplasia – one of the worst cases that the doctor had ever seen.  Instead of her hip-joint cupping around her leg bone like a ball and socket, it was almost perfectly straight, so only the muscles around her hips were keeping her femur from sliding freely up and down and out of her joints.
a normal hip joint
moderate dysplasia
We were told that, without surgery, we would probably have to put her down by the time she turned 4 because she would be in so much constant pain.  That night, after her diagnosis, we went for dinner and brought her home our leftovers.  As she laid in the backyard chomping away at this forbidden treat, the snow falling and turning her golden fur white – I sat in the house watching her, and I cried.
She is now 9, and with medicinal management, she is just fine…well, she is getting along.
We also discovered that she is prone to urinary tract infections when she spent almost a full year with recurring bladder infections.  I would wake up several times each night to the sound of her whining at the door to go out because she just couldn't go a couple of hours without watering the grass.  And she is possibly the worst pill taker there is – in that year, we hid her medicine in everything from peanut butter and cheese to bread smeared with jam, and she would gulp it all down, and then spit out the capsule.  We finally settled on a prescriptive dog food that balances her pH levels in her urine, and she has been managing ever since.
Almost perfect.
Except, of course, for her temperamental stomach.  Because when she eats more than a small bite of anything out of the ordinary, she spends the night vomiting and crying.  And if she drinks too much water after she eats (because her specialty food makes her very thirsty), she will throw it all back up and look at me, so sad because she just wasted her precious dinner.
She is kind of sickly and pretty sore, and it makes me sad to see her shake as she slowly lowers herself to the ground.  We have her trained to sit and await our "OK" before she eats or gets a treat, but now we let her stand, just to avoid putting her through the painful movement.  When she squats to pee, she can't hold the position for too long, and often stands up and starts walking before she is done – which makes for a very pee-smelly hindquarters.  Her 2 greatest loves are (NOT me and Wilzie) her "walkies" and food (she may or may not take after me in that aspect…), but her walks are limited and are often very short to minimize the pain they cause, and she can only eat very little to keep her as thin as possible to avoid extra weight on her joints.
I don't know how much pain she is in, but I can guess.  We will eventually have to make a decision - we can get her a double hip replacement – which, the vet has told us, doesn't come with any guarantees that it will improve her quality of life (and could actually make her worse).  That surgery will cost us about $7500.
Per hip.
Or we can let her go.
It is not an easy decision, and one that I am dreading having to make.  If we do decide to put her down, how do we know when its the right time?  Dogs have extraordinary coping mechanisms, and I am worried that I won't be able to tell the difference between kind of ouchy and holy hell this fucking hurts!
I hate seeing her suffer, but I just can't imagine ever being ready to let her go.